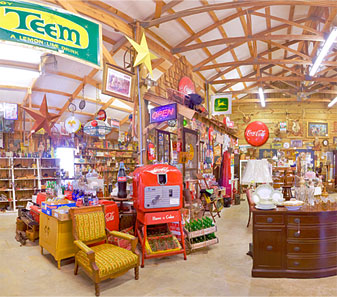 Riverside Barn Antiques - 12,000 Square Feet of Antique Heaven filled to the rafters with an ever-changing and amazing assortment of antiques and collectibles.
New merchandise arrives Every Week!
Family owned with the friendliest staff for miles around.
Plenty of parking - Bus and RV friendly.
Master Card and Visa welcomed.
The Barn buys and sells.
And...Just 5 miles off of Interstate 40 makes us an easy jaunt from Wilmington, Jacksonville, Raleigh, Durham, Cary, Greenville, Topsail, Wrighstville Beach, Carolina and Kure Beach, Southport, and the little towns in between.
The rich history of Riverside Barn Antiques began when founders, North Carolina natives Aaron Cavenaugh and his wife, Jenny, made their first trip to the Amish countryside more than 30 years ago. Aaron fell in love with the buggies and wagons the Amish used in everyday life and began collecting and bringing them home to his farm near Wallace, North Carolina. His collection grew so large that he erected a barn, the current Riverside Barn Antiques, to house it.
Aaron's many trips led to friendships with the Amish farmers who began including him in their excursions to estate and antique sales. Soon, he was adding to his collection expanding into furniture, old farm tools, household goods, etc. It was just a natural next step when, in 1994, Aaron and Jenny decided to throw open the barn doors! They invited the public in to browse and collect some of the most beautiful and unusual antiques southeastern North Carolina has to offer.
Things are different now, but also much the same. Aaron still makes lots of trips to Pennsylvania every year to add to the collections of the Riverside Barn Antiques. Jenny, along with members of the family, and Shirley (an employee of 9 years) run the barn day-to-day. Molly, their beloved Boxer, greets each visitor (uh...that is, if she is not asleep in her favorite chair). And, Aaron can't quite help it...he still brings home a buggy or two!
The staff is always friendly and well-informed. There is always something different because every single week, more antiques are added. Come for a visit. Come often...you never know what treasure you might find at Riverside Barn Antiques.
Here is just a taste of what you can find...
Depression Glass, Crystal, Silver, Linens, Punch Bowls & Cake Stands!
Jadite, Fire King, Hammered Aluminum, Pottery, and Cookie Jars!
Old Phones, Old Tools, Old Stoves, Old Toys and all your lost Old Marbles!
Paintings, Mirrors, Wall Sconces, Lighting, Lamps, Metal Signs and Books!
Chests, Tables, Beds, Chairs, Wardrobes, Desks, Bookcases, and Plant Stands!
Knicks Knacks, Sundry, Chachkis, Doodads, and Other Such Really Good Stuff!
And of course, Aaron, Jenny, Molly and an Amish Buggy or Two!!